Q: How can I earn AP on the Ichigo App?
A: AP is earned solely by purchasing Ichigo products, including individual items and subscription boxes. Users will get the same amount of AP for every dollar they spend (excluding discounts and shipping fees).
Q: What is AP used for on the Ichigo App?
A: AP is used for Ranking Up, Leveling Up, and Tiering Up. Users will accumulate AP during the year, and the amount of their AP will define their Membership Level/Tier.
Q: What are the different Tier Levels on the Ichigo App?
A: There are four Tier Levels on the Ichigo App: Non-Member, Basic, Bronze, Silver, and Gold. The benefits and requirements for each Tier are explained in the picture below.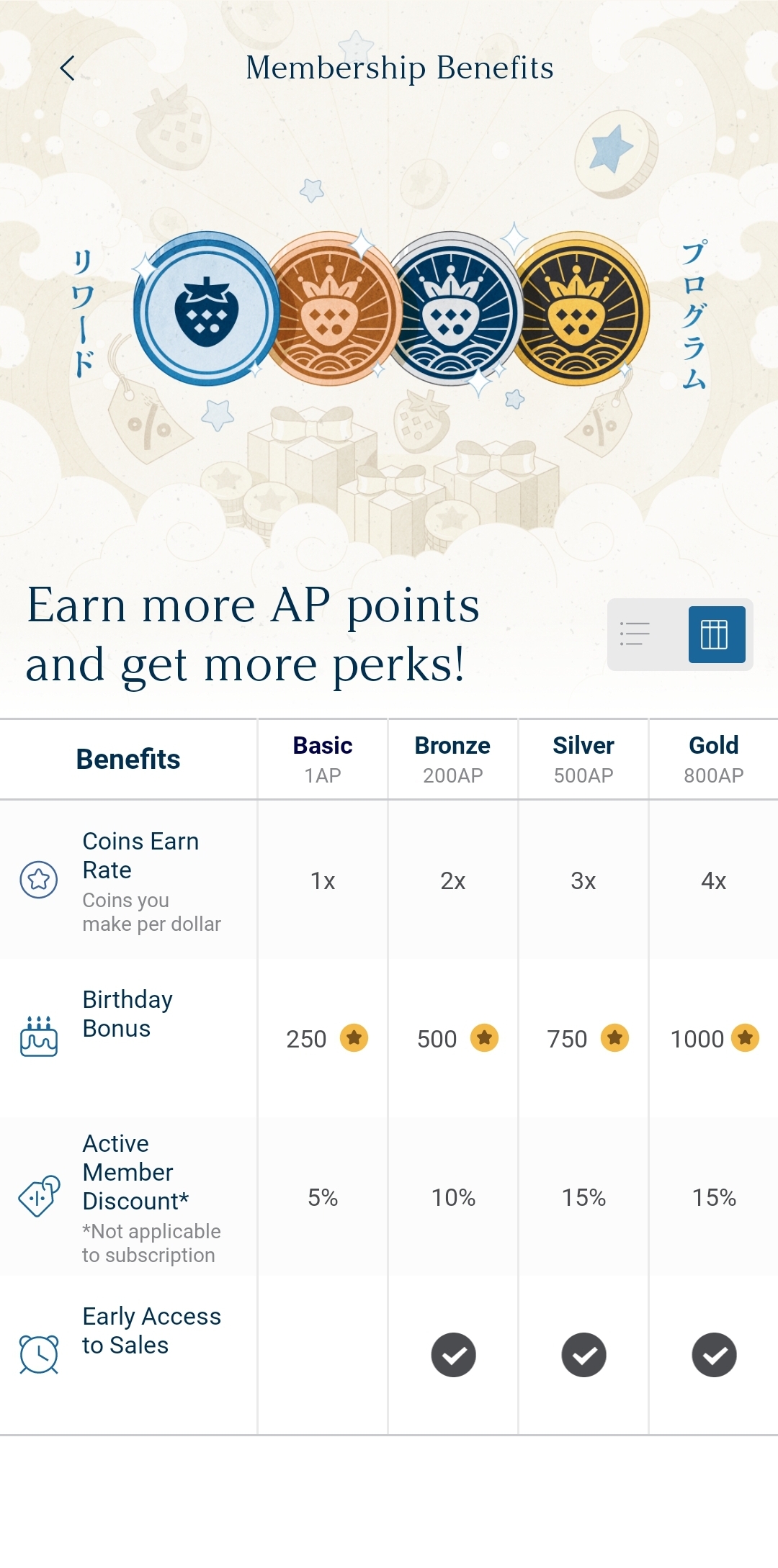 Q: I've spent $650 this year, How many APs that I have and what's my membership tier level?
A: You have 650 AP and your tier level is silver.
Q: What happens to my AP at the beginning of each year?
A: Your AP will be reset to 0 at the start of each year (January 1st). However, you will keep your previous year's Tier throughout the year and must earn the required amount of AP to keep or upgrade your Tier for the following year.
Q: How can I earn Coins from the ICHIGO App?
A: For every $ you spend (excluding discount and shipping fee), you will get the amount of Coin depending on your tier.
For example: If you are on the silver tier and spend $200 after the discount and before the shipping fee, you will receive 600 coins in total.
Q: How can I use the Coins I earn on the Ichigo App?
A: Coins can be used as a discount at checkout, with every 100 Coins equal to a $1 USD discount.
For example: If you have 250 coins, you can exchange 200 coins to get a $2 discount (item only) for your next purchase. There's no expiration date for coins.
Q: How long does it take to receive AP and Coins after making a purchase?
A: You will receive the AP and Coins automatically after your order and/or first subscription box has been shipped.